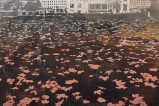 Born in 1982 in Beijing, China.
Having completed both his Bachelor and Master degrees in the UK (BA from University of Wolverhampton, and MA from Wimbledon College of Art London), it is not surprising to note the European influence in Lu's works. He deliberately turns away from realism and figurative representation, both of which have long been part of the Chinese painting tradition.  At the same time, his interest in experimenting with techniques and subject matter can be easily traced to his Chinese roots.
Lu's artistic development can be observed in his remarkable use of color to create unique effects and atmospheres. While some areas of the canvas are precisely rendered with clear outlines, other equally important areas are only vaguely suggested. He lets the heavily diluted paint run across the canvas in a way that figurative structures are not formed by a clear brush strokes, but by the rills of the mixing paints. Despite all unpredictability of the material Lu manages to control the process of image development by leaving certain parts of the canvas unpainted and like that skillfully carves out his subject.
Since 2010, Lu has had several solo exhibitions and participated in a number of group shows around the world, the most recent of which was « China Arte Brasil » in Sao Paolo.